Dear Citizens,

This year we have decided to be rather peaceful and pink and give you the tools to Make Love, Not War.

On Day 3,008, while the world is celebrating Valentine's Day, you will be able to find love on the battlefield. Plato installed a big Heart button on each battlefield that will enable you to share the love. Once you press it, love will spread all over the battle and each Citizen's damage will be reduced by 50% for the duration of the love rain. (The damage dealt by bombs will not be affected).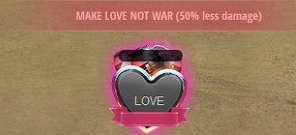 Please note that the spell is active for 1 minute, affects all the divisions, costs 1 000 currency and that everybody will be able to see who is the one spreading the love.

We hope you will enjoy a day full of love and if you want share your feedback, please let us know.