Dear Citizens,

We are pleased to introduce new profile cards inspired by the work of the Community. The cards will pop up if you hover a citizen's nick in various places across eRepublik.com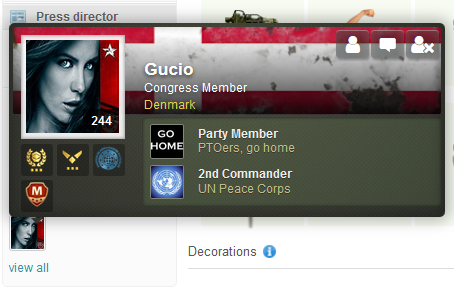 Civil wars

Also, in response to the Community's requests regarding Dictatorship, we decided to make some changes regarding the mechanics of opening a Civil War (liberation war included).
First of all, from now on you have to be a level 25 Citizen in order to create a Military Unit. Furthermore, in order to open a Civil War, a Military Unit needs to be at least 60 days old. Only commanders who are in charge of such military units for at least 14 days and have reached experience level 25 can start Civil Wars. The Dictatorship mechanics have also been revised and a Daily Dictatorship Upkeep cost will be introduced.

In order for the dictator to remain in power, a daily currency fee will be automatically deducted from the Country's Treasury. If the payment can not be done, Democracy will be reinstated automatically and Dictatorship will be removed without any liberation war. The amount of money needed for the Daily Dictatorship Upkeep will be 50% of a Country's Income, with a minimum value of 25 Gold at Monetary Market Exchange Rate.

The Upkeep will be in effect starting 31st of March 2017 (Day 3,419), thus giving all countries time to set their political affairs in order.

Security

Few hours ago a security vulnerability has been disclosed in one of our service providers. Cloudflare, a popular content delivery network used by more than 5.5 million sites that we use to reduce exposure to DDOS attacks, announced that under certain circumstances sensitive information such as HTTP cookies, authentication tokens, HTTP POST bodies has been accidentally leaked due to a bug. Cloudflare has since fixed the issues at the heart of the problem.

While there is no evidence that erepublik.com was affected, nor that the vulnerabilities were exploited by hackers, we have invalidated all our citizens session identifiers. We would also like to remind you that you should use unique, strong passwords, for each account/site and change it once a potential vulnerability is disclosed, even in cases that look benign (citizens that exclusively Facebook sign in are not affected).