As we're completing the 12th year of eRepublik's amazing journey together our sincere thanks goes out to all of You for making this possible.

We take huge pride in our players and volunteers, it is your passion, dedication and sometimes resilience that made eRepublik a unique gaming universe. However, we are even more proud of being able to help you forge friendships that went way past the eWorld boundaries into the real world.

This year we're changing the routine and adding a pinch of strategy: lots of gifts are spread around the world and you'll be the one to decide what you will be going for.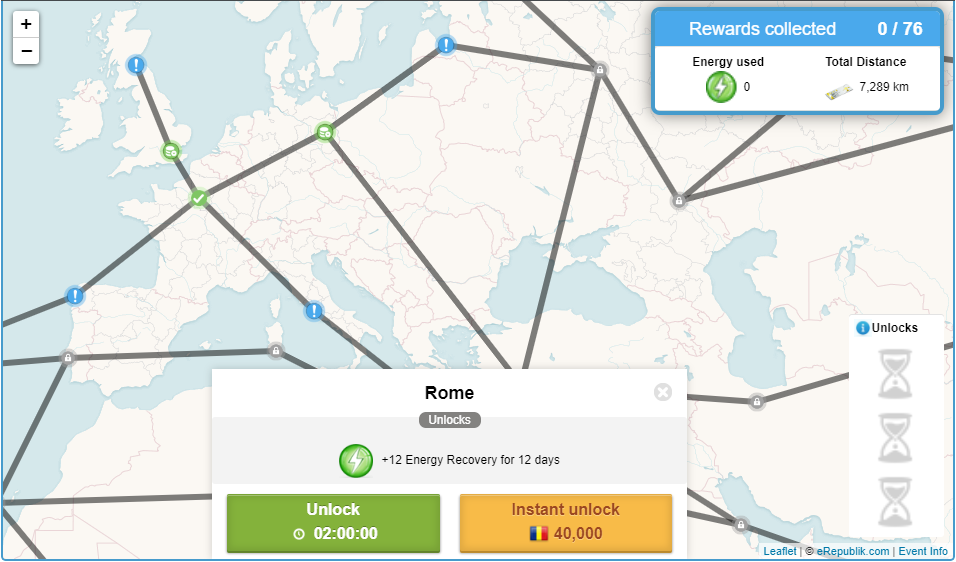 In order to claim the gifts, you will need to unlock the location that holds them on the special event map. Depending on the location you choose you'll have to wait between 1 to 8 hours to complete the unlock.

After you unlock a gift, you'll need to prove yourself a worthy citizen who does a little bit more than just logging in. During the event, the energy consumed and traveled distance will be logged, and a bit of each will be deducted when claiming a gift.

You can also use your currency to speed up your unlocks or recover some lost time.

You can add up to 3 locations in the unlock queue until day 4,390 [27 Nov 2019 23:59:59].

At the beginning of the event you'll be able to pick to unlock any location as your starting point. Once your first location is unlocked, you'll only be able to choose from the locations which are directly linked to it. Use the 6 hours remaining to the start of the event to plan your path wisely.

A gift in an unlocked location can be claimed at any time until Day 4,391 [28 nov 2019 23:59:59], provided you have the required traveled kilometers and consumed energy. Kilometers and energy are counted starting Day 4,383 [20 Nov 2019 00:00:00] until Day 4,390 [27 Nov 2019 23:59:59]

Thank you !

Some clarifications based on your questions:

A player does not need to move in the location of the gift to start the unlock or to claim the reward.

The energy consumed and distance traveled acts as an event currency and is used when claiming the gift (once the location was unlocked). IE: if a player has accumulated 1000 energy consumed and 1000 km and the claim requirement is 500 energy and 1000 km, he will be able to claim the gift and will be left with 500 energy and 0 km in his pool. If the requirement is 1500 km he will need to travel some more.

The gifts are not unique hence a player can get multiple gifts of the same type. Energy recovery is cumulative, getting 2 of them will increase your recovery rate by +10 each time.

Unlocking a location will give access to all the locations linked to it permanently. You cannot be stuck as you always have a location to unlock. Ie if someone unlocks London first, Paris and Edinburgh become available. After unlocking Edinburgh, Paris is still available as a valid pick.

You can choose any location as your first unlock but you will need to wait the required unlock time.
FAQ
Q: Can I unlock more than 1 reward at a time?
A: You can queue up to 3 rewards, but only one timer will be counting down at a time.
Q: Can the same rewards be unlocked multiple times?
A: While you cannot claim the reward from the same region more than once, you can claim the same rewards across different regions.