Esplanada dos Ministérios, Bloco L - Brasília
Monday 11th January 2021, day 4.801 of the New World.
Dear eBrazilian citizens,
The Ministry of Education is updating several eRepublik guides in its catalog, today we will talk about Air Battles. Let's go to the guide!
TYPES OF BATTLE
For every 4 common battles, one battle will be aerial. To differentiate battles, the following change occurs in the active warfare display panel:
Argentine vs Brazil Battle: Aerial Icon (Aircraft)
Bulgaria vs. Brazil Battle: Land Icon (Tank)
As you can see, in aircraft battles the icons are different.
The battlefield itself also changes in air battles:
There are also enabled menus that can be accessed by the buttons below the influence bar:
From left to right:
1- There it shows the list of campaign points of each country involved, the bars of each division and statistics for epic. 94 points are still needed to win the war;
2- There it shows the amount of damage and enemies defeated by the players who fought in that aerial battle;
3- Shows the history of wars between the countries involved, such as liberation or seizure of territories;
4- Shows the Combat Orders, if any Military Unit or Government added money to fly;
5- Shows the Battle Statistics with custom graphics.
For now, there are only five weapon models that can be used in aircraft battles. Like weaponry in land battles, it can be equipped on the same button as it is equipped in conventional battles:
As you can see, my damage with a Q1 weapon is 122. As in regular battles, it may take several blows (in this case, shots) to defeat an enemy. When defeated, the following window appears: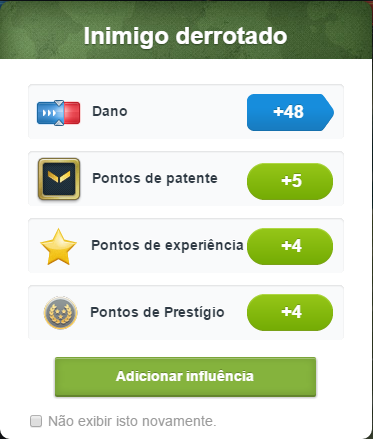 Image merely illustrative, because I disabled the option
In the window it shows the damage, the rank of points and the points of experience, which, as in ground battles, is equal to the points of prestige.
When changing patents the following window will appear: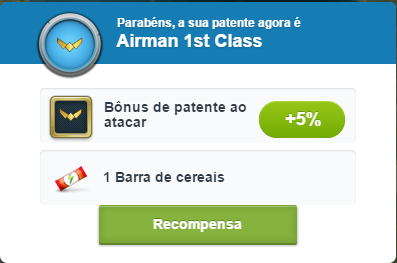 You will earn an energy bar and a 5% increase in your patent point gain (consequently, an increase in your damage).
As your rank goes up, your basic damage also increases.
At the end of each aerial battle, "Sky Hero" trophies are awarded to the greatest damage on each side of the war, as well as the 30 golds for conquest.
The trophy table for each player is informed on the profile screen:
Below the trophies are the tables that show the rank, strength and perception of each player, although the way to evolve the perception has not yet been disclosed.