Dear Citizens,

We're updating the fight system on the web version to match the Deployment mechanic on the mobile version.

Fight Deployment

The deploy allows Citizens to choose the amount of resources (weapons and energy) they want to spend on the battlefield and just enjoy the fight without the tedious clicking.

For a limited time, the deploy feature will run in parallel with the classic fight system, so we can iron out any bugs and usability issues that might occur. You can switch between "Classic Fight" and "Deploy Mode" while on the battlefield page.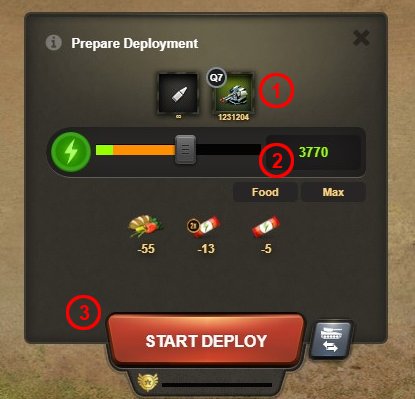 In the deployment preparation phase you need to select your weapons (1) and the energy to fight with (either by using the slider (2), typing in the energy amount or using the shortcuts Food & Max).

Starting a Deployment (3) will commit the selected resources (Food, Weapons, Energy Bars etc) and they will no longer appear in your inventory.

During the deployment, your resources will be gradually consumed to deal damage over time. As the deploy is in progress, your Citizen will fight either until the deploy is finished or the Citizen cancels the deploy (even if the Citizen leaves the battle page or closes the browser). In case the deployment has been cancelled earlier (either by the Citizen or because of an external factor, like a battle ending), any unused resources will be returned back to the storage.

You can only deploy in one battle at a given time.
While you are Deployed you can activate boosters but you cannot travel, eat, fight or use any bombs.

The duration of a Deployment depends on the total amount of energy committed.
Any energy gained from level-ups will automatically be added and consumed (before other energy items committed, such as energy bars) in the Deployment.
At the end of the Deployment, you will receive a Deployment Report and all unspent resources will be added back in your inventory.


Puzzle Captcha & Wall Influence of new accounts

As part of our efforts to ensure a fair gaming environment for all Citizens, we will also be testing a new anti-script protection together with the deploy.

New accounts will gradually be able to convert their damage into influence, as they gain military ranks (progress is available on the respective wiki pages: wiki.erepublik.com/index.php/Aircraft_rank and erepublik.com/index.php/Military_rank).

As usual, we'd love to hear your feedback!